Marina del Rey Cycle Club is a nonprofit organization based in West Los Angeles that hosts weekly recreational bike rides and is dedicated to the promotion of safe, fun, and social cycling activities in the Southern California area.
Weekly Rides _____________________________
Every Sunday - Meet at Helen's Bicycle Shop, 2472 Lincoln Blvd, Marina del Rey, Sunday mornings at 7:45am for an 8:00am start. Routes are listed in the Ride Calendar.
Ride Pace - Varied, depending on rider's ability. We typically ride at a moderate pace (say 17 to 22 on the flats) and we periodically stop and re-qroup during the ride to keep everyone together. When conditions permit (such as on PCH) we may ride in a single-file paceline.
Routes - Rides vary in length from 50 to 70 miles (25-35 miles for the short versions), and usually include some challenging medium to long climbs. Due to time or other constraints, some riders may do shorter versions. With routes that explore all facets of the Southern California area, including both coastal and inland areas, MDRCC rides afford an opportunity to visit many interesting Southern California locales.
Other Rides - Usually on Saturdays and holidays, check the Ride Calendar
Recent/Current Activities_________________________
Annual Holiday Party!
To cap off a year of great rides and growth in numbers and spirit, the MDRCC Annual Holiday Party will be held on Saturday, December 21, 2013, at the Santa Monica home of David Moss and Cheryl Lee from 6 PM to 9 PM (or later!). All current and former MDRCC'ers along with their spouses, family, friends, and significant others are invited and welcome to attend.
Cocktails and appetizers start off the evening with dinner to follow.The Moss Family is hosting the main courses and some beer and wine. In the spirit of a pot luck, please bring the favorite holiday fare you cherish: side dishes, additional beverages, and especially desserts. Please plan on drinking as if there is a bike ride the next day - which there actually is!
For more info or to RSVP, please contact David at mosstel@earthlink.net. Let him know how many you are, what you plan to bring, and also to get David's address. You can also let him know if you have any dietary restrictions.Please RSVP by December 15, so David can plan accordingly.
There will be yet another edition of the famous MDRCC Gift Exchange, so please bring a new wrapped gift of $20 or less (or greater if re-gifting a gift!) if you wish to participate. Rules to be settled before the gift exchange and argued about during the exchange.
With good tidings – we all look forward to a wonderful event to cap off another great year for Marina Del Rey Cycle Club!
----------------------------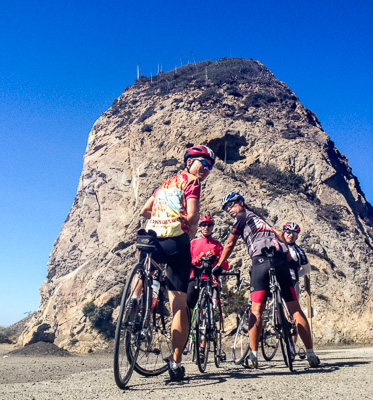 Some MDRCC'rs at the Rock
Sunday "PCH to the Rock" Ride
One of the best ways to enjoy the Southern California coastline, the ride up Pacific Coast Highway to the Point Mugu Rock provides an opportunity to appreciate where we live and ride. The MDRCC riders on Sunday enjoyed one of these quintesential SoCal days...ideal weather, frequent taliwinds, and only one flat. Life doesn't get much better!
San Diego Century
Sponsored by the Orange County Wheelmen, the Amtrak Century has become one of the most popular SoCal centuries. In addition to the scenic ride from Irvine to San Diego, the big draw is the Amtrak train ride back from San Diego. Tired legs don't seem to seem to affect the full-on party atmosphere that prevails. This year, two MDRCCrs, Henry Choy and Erik Stoken, made the ride, and reported another excellent Amtrak.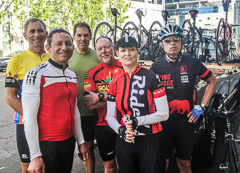 MDRCC San Diego Century Riders
This year, the club re-instated its own San Diego Century. We followed essentially the same route as the OCW Amtrak Century and took the train back from San Diego to our starting point at the Irvine Amtrak Station. Our sag vehicle for the trip was piloted by Larry Bump, who also crafted a great rig in his pickup truck for transporting our bikes from San Diego back to Irviine. Larry may have a permanent role in this ride.
Since the consensus was so positive for the ride, it looks like it will be back in our annual ride list as one of our out-of-town rides. There is also some discussion about making it a two-day trip: ride down on Saturday, spend the night in San Diego or Mission Beach, do a recovery ride on Sunday, and take the train back Sunday afternoon. Stay tuned for updates.
Jerseys
The jersey order is in! Thanks to Carl for moving the project forward. The expected delivery date for the jerseys is the week of Dec 16-20..